NEW!

A Practical Guide by Osama Rifai
Everything You Always Wanted to Know About Corporate Finance But Were Afraid to Ask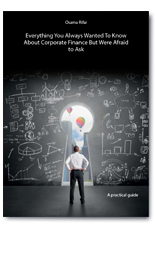 Finance is not rocket science, and with common sense you can get very far, although many a so-called specialist would vehemently deny this.
My decision to write this book was inspired by participants at finance workshops and seminars who repeatedly asked me if the material taught in the seminars was also available in a book. I didn't want to write another book on theory; there are certainly enough of those. What I'm interested in is the practical relevance of various financial concepts and terms. Managers want to know how these terms should be used, and what the advantages and disadvantages are of using them in the everyday business environment. They are not interested in theoretical and difficult to understand treatises.
Hardcover Edition | orderings: info@rifai-partners.com
120 pages
ISBN 978-3-9524276-2-0
Price: € 35.- plus mailing charges
Extract: Contents and Chapter "Mezzanine Financing"